Please enable Java in your browser.
Water Tower
The draft of this mural was drawn by art students at Manawatu College under the tutelage of Clyde Dawson.
The painting was done by pupils from the Foxton Primary School which commissioned the mural.
Artists: Draft by Manawatu College Students,
Painted by Foxton Primary School pupils.
Commissioned by: Foxton Primary School
Fruit and vegetables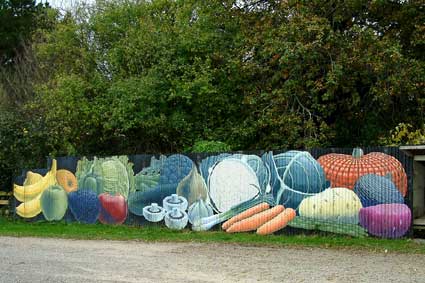 Painted to promote the fruit and vegetable stall operated for many years by Royce and Betty Evans.
Artists: Michael Barclay and Mike Jull
Commissioned by: R & E Evans
Site: Beach Road