Please enable Java in your browser.
Railway and Wharf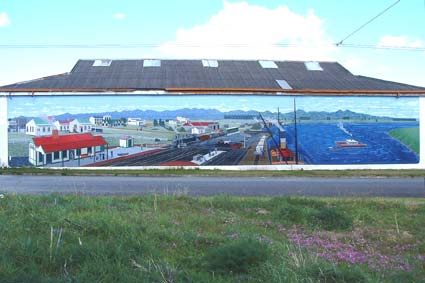 Foxton's first wharf was a jetty built by T U Cook. It was washed away by a flood but rebuilt. In 1871 it was taken over by the Government and a more substantial wharf was established in 1873. Eventually land was reclaimed and a wharf built over deep water with the railway station behind. Foxton was a "Port of Entry" with a Customs House in 1879 - it lasted a year. The port was closed in 1842.
The railway which began in 1873 with wooden tracks, was converted to iron rails and larger engines in 1876.
The trains ran from Foxton to Sanson and Foxton to palmerston North, serving the district until 1945 and 1959 respectively.
This mural was also removed when the new Mitrte 10 building went up.
Artists: Michael Barclay & Mike Jull
Sponsors: Lotto, Dulux Paints & Eastern & Central Community Trust
Site: Wharf Street