Please enable Java in your browser.
Mrs Mete - local kuia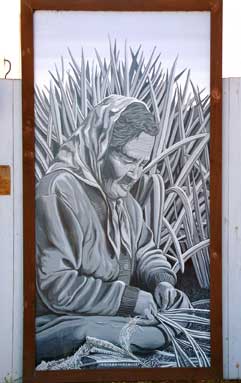 A kuia (respected elderly woman) of this district who was honoured by the Queen during her visit to New Zealand in 1974. She was presented with the British Empire Medal for her services towards the preservation of flax crafts. She gained respect for her willingness to pass on her knowledge of Maori craft and some of her work is displayed in museums throughout the country.
For her efforts in creating items for sale at church shop days & other fund-raising efforts, the Anglican Church awarded her the Ordere of Meritorious Service in 1993. She died in 1994 aged 94.
Her mother, Rangiparewahawaha Leonard died in Rotorua ages 112 years. Her grandfather, Henry Morshead Symons, was an early settler in this district.
Artists: Mike Jull & Michael Barclay
Sponsor: Westpac Trust Bank
Site: Main Street next to Westpac Bank