Please enable Java in your browser.
Flax drying field and Catholic Church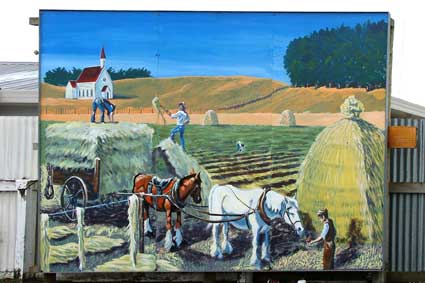 The Catholic Church of St. Mary's and the Angels, built on land donated by Mr. J A Smith, was officially opened on 13 November 1881 by Bishop Redwood. The Parish Priest at the time was Father Moreau.
Built by Freeland and Co. at a cost of two hundred and fifty pounds, it was opened debt-free.
The original building was enlarged in 1903 and again in 1948. The porch was added in 1963. Interior modifications were made in 1889, 1920, in the 1970's and in 1995.
Initially served by visiting priests from Palmerston North and Otaki, Foxton was established as a separate parish in 1909.
The church bell was donated by John Purcell. The bell tower was removed in 1920 and replaced in 1991.
The area between the church and Main Street, Foxton, was used extensively for drying flax.
Artists: Michael Barclay, Mike Jull and Des Comyn
Sponsors: B.P. and Benjamin Moor Paints
Site: B.P. Service Station - north end near the Catholic Church