Please enable Java in your browser.
Riverboat "Planet"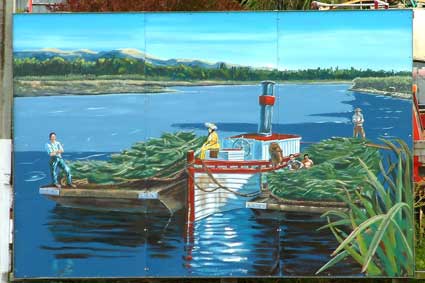 Built in "1878 the "Planet" was purchased by Captain Kemp and William Jupp in 1899 to replace the paddle steamer "Nile". The "Planet" was one of a fleet which made eight trips weekly between Foxton and Shannon, conveying flax, goods and passengers.
In 1900 Richard Seddon and Lord Ranfurly were taken by boat to Whirikino to open the new bridge.
The "Matara" and "Planet" were destroyed by fire in 1908, only the boilers and engines being salvaged.
The "Planet" was later re-built by A W Bauckham on Ross' slipway and served in many capacities for years afterwards, mainly towing puntloads of flax from the up-river swamps to the mills at Foxton.
In 1919 the "Planet" was laid up and her boiler transferred to another vessel, the "Merlin". The "Planet's" hull was washed away by a big flood in 1938, ending the carrer of one of the river's longest-serving launches.
Artists: Michael Barclay, Mike Jull & Des Comyn
Sponsor: Whyte's Hotel and Benjamin Moore Paints
Site: Next to Post Office Hotel