Please enable Java in your browser.
Whirikino Bridge Collapse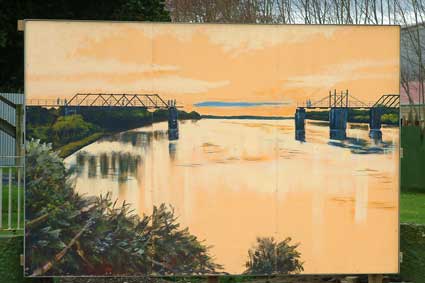 Prior to 1900 the river was crossed by ferry. The wooden bridge, with opening centre span, was built in 1900. However there were still problems when flood waters covered the road onthe swampy northern side. This was remedied in 1939 by the trestle bridge and raised embankment road.
In 1943, piles scoured out by floods, the centre span collapsed. An American jeep, a car and a cyclist fell into the river. All occupants survived.
A temporary swing bridge was erected over the gap and the local mail contractor, E J Murphy, who also ran a bus service, kept a bus on each side and wheeled the mail over in a wheelbarrow.
Artists: Des Comyn & John de Vries
Sponsors: Mr & Mrs J Bowler, Mrs M Spiers & Resene Paints.
Site: Easton Park